nHAp+ Whitening Mouthwash Drops
Regular price
Sale price
$49.00 AUD
Unit price
per
Sale
Sold out
The future of whitening looks bright - Brighten your smile with our peroxide-free formula, that cuts your plastic waste by over 90%!
Our one-of-a-kind mouthwash drops eliminate the need to ship water around the country - just add a few drops to water and mix to create a powerful whitening, strengthening, and anti-bacterial rinse.
Contains Nano-Hydroxyapatite to strengthen enamel and prevent sensitivity
Peroxide-free whitening with 

Phthalimidoperoxycaproicacid (PAP)
Ingredients You'll Love

Aqua (Purified Water), Phthalimidoperoxycaproic Acid (PAP), Xylitol, Peppermint Oil, Nano-Hydroxyapatite (nHAp), Potassium Citrate.
__

Phthalimidoperoxycaproicacid (PAP)
A scientifically proven teeth whitening ingredient that is a safe alternative to peroxide. It has no negative side effects during the oxidation of tooth stains which allows it to effectively whiten without pain or sensitivity.

Nano-Hydroxyapatite (nHAp)
Hydroxyapatite is the main component of teeth. The nHAp formula contains a nano-synthetic version which replaces minerals back into damaged parts of the enamel. Over time this will help to strengthen the protective layers of the tooth.

Potassium Citrate
A powerful desensitising agent that helps to relieve pre-existing sensitivity. It travels down into the tooth and through the soft layer of dentin to provide the nerves with lasting protection from pain and sensitivity.

Xylitol
Xylitol inhibits the growth of harmful oral bacteria such as S. mutans, but its benefits do not stop in the oral cavity. By promoting healthy saliva production remineralization is encouraged by the transport of essential molecules.
Easy To Use

Shake well before use. Fill the measuring cup with 15ml of water, and add one full dropper of mouthwash formula. Swirl the cup until mixed.

Swish in mouth thoroughly for 60 seconds. Expel mouthwash, and avoid rinsing with water for optimal results.

OR

Simply add a dropper to your wet brush prior to brushing
Carbon-Neutral Shipping

All orders are shipped (carbon-neutral) from our warehouse in Melbourne. Same day dispatch for all orders placed before 1:00pm AEST.
Money-Back Guarantee

We offer a 30-day 100% Money-Back Guarantee on all products - if for any reason you are unsatisfied, please contact us at hello@choosegood.com.au for support.
Do more, with less
Did you know that regular mouthwash is just 90% water? We've developed a concentrated formula in a tiny glass bottle that reduces waste significantly and stops us shipping water around the country.
Total Coverage

Unlike plastic whitening strips or gel pens, this formula gets to all those hard-to-reach spots with ease.

Peroxide-Free

PAP is a safer alternative to peroxide, that doesn't release free radicals. This means there is zero impact on gums or enamel.

Strengthens Enamel

Nano-Hydroxyapatite (nHAp) actively rebuilds enamel and banishes sensitivity.
As easy as Drop, Swish, Smile, Repeat
1. DROP a few mouthwash drops into a cup of water
2. SWISH around your mouth for 60 seconds
3. SMILE and spit the mouthwash into your sink
4. REPEAT twice a day, everyday!
Noticeably whiter teeth in just 14 days
We get it, you've tried 'eco' products before and the performance wasn't great. 
Our products are backed by years of research, science-backed technology and powerful plant-based ingredients to deliver super clean results. 
Subscription is simple
You'll receive a fresh bottle of mouthwash drops every month, so you never have to worry about running out again.
✔ You'll save 20%
✔ Free shipping
✔ Cancel anytime
Customer Reviews
100
reviewers would recommend this product
Write a Review
I recommend this product
Working Well
It is always a quick easy shopping experience buying from the Good Company with fast shipping & delivery, these whitening drops are working well and are very easy to use and leave your mouth and teeth feeling very clean and refreshed, highly recommended product, thanks!
06/20/2022
Kate N.

Australia
I recommend this product
Plastic free. Australian. Amazing
I love using this product. It ticked some many boxes for the types of products I'm trying to buy and importantly my teeth feel so CLEAN.
06/20/2022
Samantha D.

Australia
I recommend this product
This product should go global.
I recently purchased the Bamboo Toothbrush, Toothpaste Tabs and the Whitening Mouthwash drops and couldn't be happier. I honestly never believe products that say "whitening" as I haven't experienced any noticeable difference with other products (unless you get professional whitening, which I don't want to do). This product actually did make a noticeable different in a short amount of time. I have noticed my teeth have a more consistent colour and my partner even noticed so has also started using the tabs and mouthwash. My only request is to have the re-fills come in larger quantities as they are only for a single use and our whole household now uses The Good Co. to clean their teeth! I have recommend this product to a few people now and they all love it. The BEST thing is its Australian made and zero waste - such a welcome solution.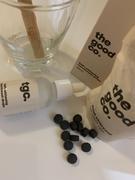 06/20/2022
Michael S.

Australia
I recommend this product
Feshens Your Teeth & Mouth
Easy to use and very refreshing, after brushing with the charcoal tabs I simply squeeze a full dropper into one of those 30 ml cough medicine containers and half fill with my alkaline filtered water and swish around your mouth and teeth, leaves the mouth and teeth feeling clean and fresh, is making a difference to my 68 year old teeth and helps to make them whiter and brighter even after years of using branded whitening toothpaste.
05/28/2022
D***e

IT